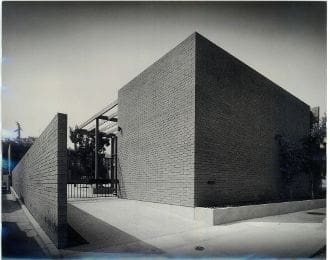 Click To Enlarge
Photographer: Julius Shulman
Location: Los Angeles, California
Subject: Carl Maston and Kengott Brosmer Offices
Job: 4546
Date: 1969
Assignment: Carl Maston
Located at 2840 Rowena Avenue, Los Angeles, this building served as headquarters for Maston and Brosmer. Today the building is used as a sound studio and has changed owners many times.
This rare image of a cathedral was created by Shulman while on assingment in Italy.
Print. Unframed. Image size: 16" x 20" (40.64 x 50.80 cm).
Shulman's studio stamp on verso. Signed by Julius Shulman at his Hollywood Hills studio on recto .
Image is in Excellent Condition. Condition Report: Any condition statement is given as an opinion and does not imply that this photograph is in perfect condition or completely free from wear and tear or imperfections.
This image came from Julius Shulman's studio located at his Hollywood Hills home.